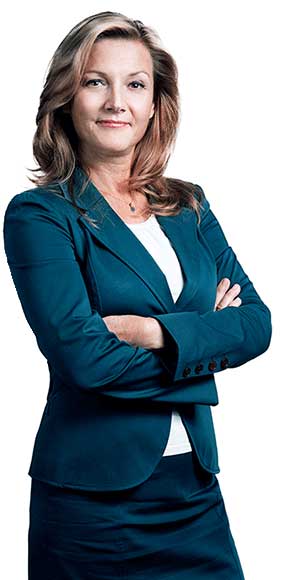 Anna Zakrocka
tel: +48 606 631 580
Anna Zakrocka
Polish and European Union Trade Mark Attorney
Practice areas
trademark prosecution and litigation, counseling on trademark protection matters, drafting and negotiating agreements, trademark searches. Representation before the Polish Patent Office, Polish courts and the European Union Intellectual Property Office (EUIPO).
Qualifications
MSc in Mechanical Engineering Warsaw University of Technology, major: Industrial Engineering and Management. Postgraduate Intellectual Property Studies Jagiellonian University in Cracow.
Polish trademark attorney since 1999.
Representing clients before EUIPO since 2004
Achievements
Recognized in Who's Who Legal for Trademarks in 2014 and 2015 and 2016
Recommended yearly by World Trademark Review's The World's Leading Trademark Professionals since 2013
Recognized as IP Star by Managing Intellectual Property Magazine in 2014, 2015 and 2016
Recognized in the Guide to the World's Leading Women in Business Law since 2013
Recognized in Guide to the World's Leading Trade Mark Law Practitioners since 2012
Experience
1991-2015 Patpol Patent and Trade Mark Attorneys Company (Head of Trademark Department 2003-2013)
Memberships
ECTA Council Member
Member of Polish Chamber of Patent Attorneys
Member of INTA Enforcement committee
Member of ECTA Harmonization Committee
Languages
English, Polish
Publications
Contribution to "Getting the Deal Through – Trademarks 2017"
Reproduced with permission from Law Business Research Ltd. Getting the Deal Through: Trademarks 2017 (published in September 2016; contributing editor: Claus Eckhartt, Bardehle Pagenberg Partnerschaft mbB) For further information please visit gettingthedealthrough.com.
Contribution to "W marcu rewolucja w unijnym urzędzie ds. znaków towarowych. W kwietniu – w polskim" Tygodnik Gazeta Prawna, March 11, 2016
"Collective trademarks: Moving on from brand associations" World Intellectual Property Review, May/June 2015
"The Building Blocks of Trademark Law", IPPro The Internet June 2014
"Trademark Battle over a Blade of Grass", World Intellectual Property Review July/August 2012
"An Average Consumer Model in Polish Case Law", World Intellectual Property Review May/June 2012
Contribution to "The International Comparative Legal Guide to Trade Marks 2012"
Contribution to "Getting the Deal Through – Trademarks 2012"
"Maximizing enforcement success in Poland", World Trademark Review February/March 2012
"The Challenge of proving renown", World Trademark Review April/May 2011